Garden of the Gods 10M/10k & Trail Race June 11, 2023
registration opens March 1
About the Garden 10 Races
The Garden of the Gods Ten Mile Run® is the premier race of Colorado Springs, coursing through the 300′ towering sandstone rock formations of Garden of the Gods Park, including the most famous rock in the area, Balanced Rock.
For 45 years, the Garden of the Gods has been a spectacular setting for this physically demanding race. Competition in every age-group, excellent runner support and post-race festivities, prestigious awards and uniquely designed shirts make this race the most popular race in Colorado Springs.
The Garden of the Gods Ten Mile Run® hosts runners from more than 38 states across the US. Visiting runners will find the location easy to access, just 5 miles from downtown Colorado Springs and an hour south of Denver.
Colorado Springs is also home to a variety notable hotels and lodging, restaurants and breweries, and endless miles of running trails and other outdoor recreation opportunities. Plan to stay for a couple of days, so you can visit historic Old Colorado City, Manitou Springs and Pikes Peak. While visiting, be sure to relax for a beer at Red Leg Brewery, our sponsoring partner, located just 1.5 miles from the race venue.
Each year, Garden of the Gods Ten Mile Run® gives back thousands of dollars to the local community. With the Aid Station Challenge and the addition of the Garden of the Gods Trail race, we are committed to giving back to area high schools as well as to the Garden of the Gods Park.
In 2022, the runners and our race organization, Pikes Peak Marathon, Inc., donated $7,271 to the high school track and cross-country teams that participated in the Aid Station Challenge. From the Trail Race entry fees and a dollar-for-dollar match from our organization, we were able to donate a total of $3,490 towards the restoration and repair of the Garden of the Gods trails.
The addition of the VIP Race Experience in 2021 allowed our partners at the Garden of the Gods Visitor and Nature Center to donate another $2,391 to the trail preservation within Garden of the Gods Park.
The Garden of the Gods Ten Mile Run® really is the race that gives back!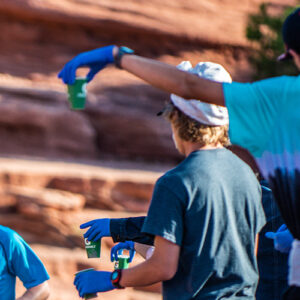 Welcome to WordPress. This is your first post. Edit or delete it, then start writing! Lorem ipsum dolor sit amet, consectetur adipiscing elit. Integer sollicitudin velit at eleifend semper. Suspendisse ornare odio et lacus hendrerit posuere. In nisl justo, semper a lacinia eu, gravida quis turpis. Morbi tincidunt mi leo, ac efficitur massa varius id. Nullam porttitor sollicitudin tellus, non consequat risus maximus placerat. Etiam risus nulla, interdum eget turpis id, rutrum scelerisque ex. Nunc nec pellentesque lectus, nec sollicitudin diam. Mauris sed bibendum augue. Ut ornare purus id tincidunt blandit. Pellentesque cursus placerat lorem et ultrices. Mauris blandit nisl
+