The Garden Ten Mile, 10K and Trail race event is held in one of the most beautiful places in the world, The Garden of the Gods, in Colorado Springs, Colorado! Our organization is dedicated to maintaining a clean race and preserving the beauty of this park. Therefore, we are taking steps to transition to cupless racing and implementing a partially cupless race this year to help make that transition smooth for our participants.
Our goal for having a partially cupless race is to have less waste in the form of paper water cups between the start and the finish line like you would typically see at organized races. 
Why are we moving toward a cupless race?
This change is consistent with our commitment to sustainability and the environment. Seeing how much waste events like this generate, we seek to do all that we can to minimize our impact on the environment while still providing an efficient and enjoyable race experience for our runners. 
We encourage you to carry your own hydration system or a quickly refillable hydration cup. Hydration systems might be handheld water bottles, fuel belts, or a vest; it can be anything that works for you, so long as it does not produce trash. We will offer HydraPak refillable SpeedCupTM for participants during race registration if desired. When you register, we will ask you to opt in and support our efforts to reduce waste. Our aid stations will have volunteers to pour water or electrolyte fuel into your personal hydration systems or cups. During our transition phase, we will also have cups of water available at each station. Whichever hydration method you choose to go with, we encourage you to practice with your chosen method before the race.
How do I get fluids on the course?
There will be water and electrolyte fuel available along the course. Aid stations will offer the options to have your hydration system and/or cup filled as well as paper cups pre-filled with water or electrolyte fuel.
Our incredible aid station volunteers will be trained to quickly refill hydration systems, your own or the HydraPak SpeedCupTM. Our partners at HydraPak have provided innovative pitchers designed specifically for filling reusable cups and bottles on the go.
A collapsible, reusable cup designed to minimize waste on the trail and replace single-use cups at race events. 
Lightweight – Made of ultra-light abrasion resistant TPU for superior durability. 

Finger Loop – Provides support when drinking and pouring, use to attach for quick access. 

Free Standing – Stands like a cup when empty or full. 

Compressible – Soft material is flexible and ultra-light so you can stuff it anywhere. 

Safe and Easy to Clean – 100% BPA and PVC free; Top rack dishwasher safe.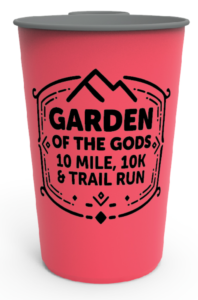 Our overall goal is to leave the courses in the same shape or better than how we found them as well as reduce the amount of waste we produce. If you would like to learn more about hydration systems, here is one article to help you get started on your research.